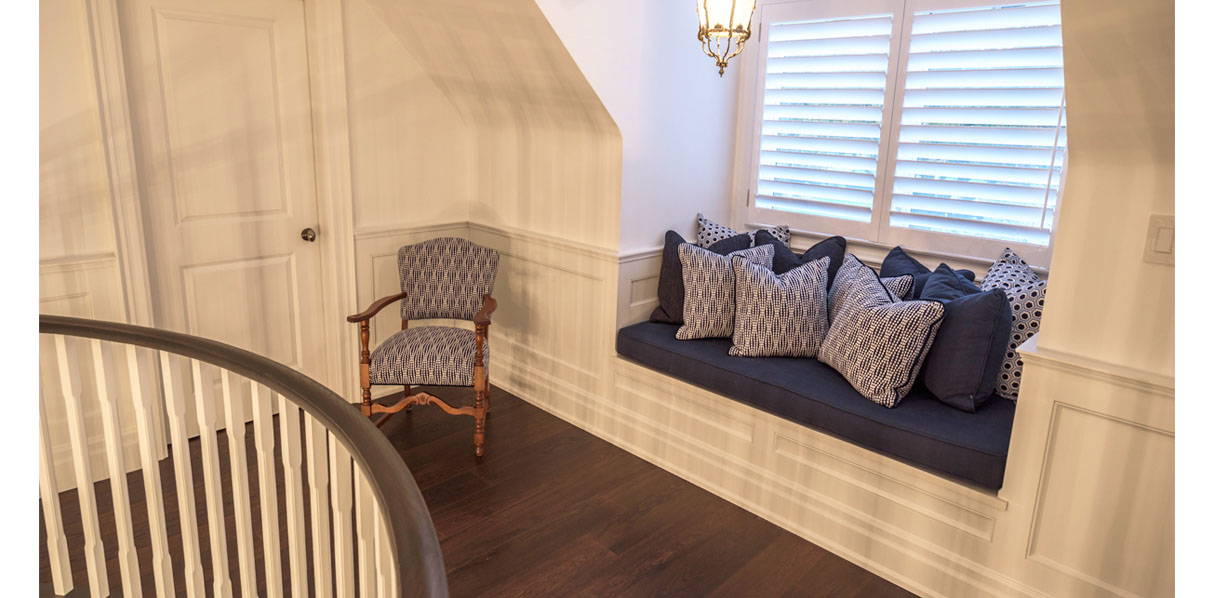 We wanted our client who has a family of six, to have a worry free fabric for the bench cushion. She chose a royal navy polyester blend with just a hint of texture. In keeping with the traditional look of the space, we piped the bench cushion. The bench cushion is zippered from one side to the other in the middle of the band at the back. This allows the cushion to be easily flipped and the casing to be readily removed for cleaning.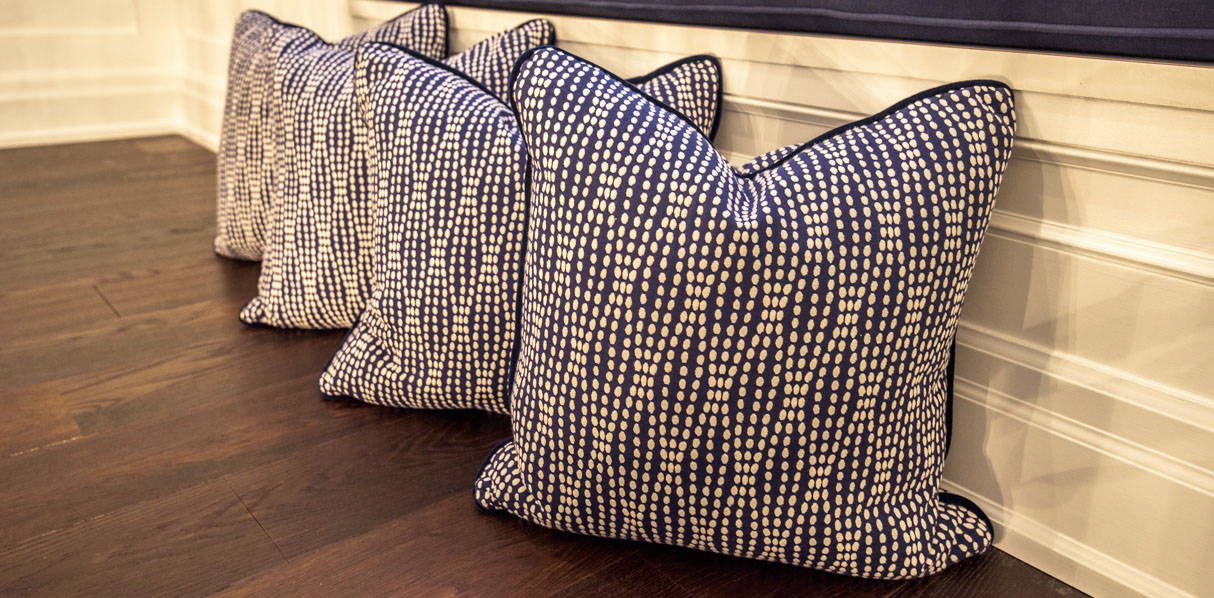 The pillows were made for our client in the "String Dot" fabric and piped in the solid blue fabric from the bench cushion. The pillows are also zippered for convenient removable should they need to be cleaned.
We piped out the very bottom edge of the seat on the client's heirloom chair with the solid navy and added the same solid piping detail to the back of the chair which added even more distinction to this already stand alone chair.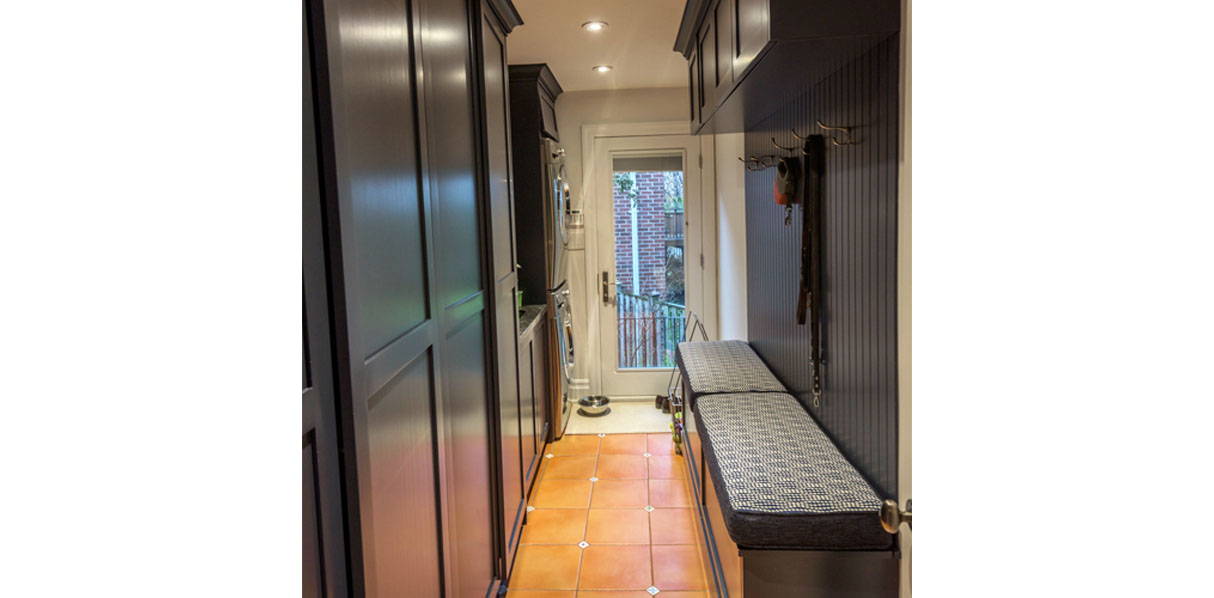 On the main floor of the home is a laundry/mudroom. The client wanted us to dress-up the space by making two identical bench cushions to sit side by side on the built-in storage booths. Since the client loved the "String Dot" fabric used upstairs, it was decided we would use it on one side of each of the bench cushions. The opposing side was done in a solid navy the same as the piping. We used a dence foam insert within the cushion to hold it in place without adding any adhesives. Since there is storage below the bench seat, we needed to keep the bench cushions readily removable.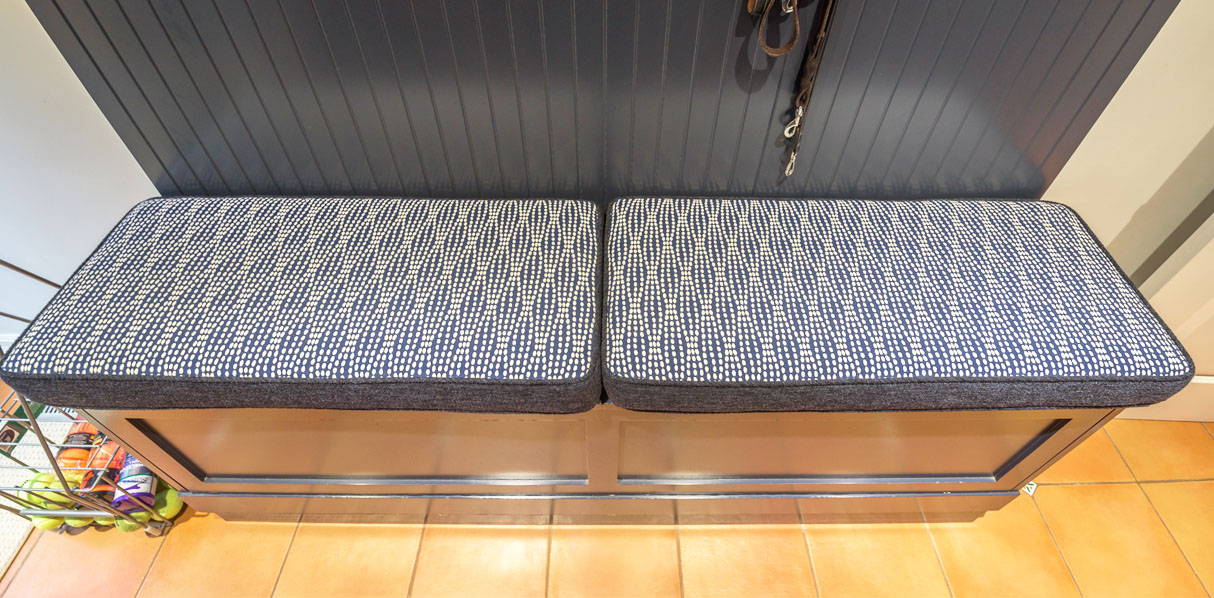 We are sticklers for detail! As shown above, the precise cut of the insert allows the banding and piping to sit taunt across the width of the bench cushions with no saging of the piping detail at all. Once again, these bench cushions are both zippered in the middle of the back band and this allows the client to flip the cushions to a solid at anytime she desires a change of look from the print.
Our client's home is very traditional yet comfortable. On the upper level of the home, led to by an elegant oversized winding staircase, is a whimsical window bench. All we needed to do was make a comfortable yet traditional bench cushion and fill-in the space with a mix of ready-made and tailored pillows. From the fabric samples we provided, our client chose this "String Dot" fabric for the pillows that added a sense of vibrancy and colour to this othewise very classic design. We further appointed a much loved traditional family heirloom chair into the corner and upholstered it in the same fabric as the pillows to bring the look together.
Thank you! We will be in touch soon.
This field is required
This field is required
This field is required